1998 Reunion - My Personal Experience
---


Wow. My ears are still ringing at the time of writing these lines. What a concert!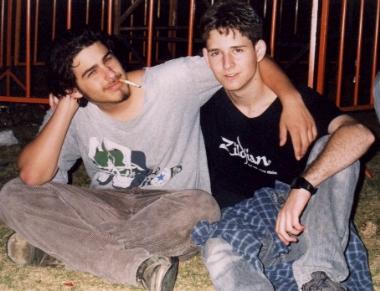 But let's go a few hours back. We, that is Udi, Doron (the smoker) and me (the nonsmoker), got to the park at 17:00 or so. Me and Doron got free entrance cards from Adi Osi, Kaveret's sweet production manager, and so we got in.

The stage was huge and had a Batman-like design from some reason. It had a tongue running into the audience. 4 drums sets were placed - one for the warmup performances, and three (!) for Kaveret. Doron decided to be my manager, and the minute he saw Galey Tzahal's culture reporter, Uri Brightman, he told him to interview me. Uri prepared me and some other interviewees for about 10 minutes, but when we finally got on the air, the interview lasted for about 2 minutes. But it didn't matter to us - it encouraged Doron to get me an interview with a channel 2 crew... And so I talked a bit about Kaveret and my site, and it was kind of fun.

Then Ivri Leader and his band got on the stage. And then they got off. HaZvuvim got on and performed a few songs. They even altered the song "Lama Lo Amart" and sang "Lama Lo Amart Li SheKaveret Hayom Hozeret?"...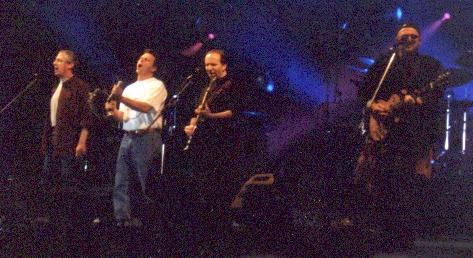 And finally, at 20:40, it began. First, drummer Tal Bergman got on. Then, 25 years after their first performance, Kaveret was reunited again. They opened with a short bit from Inspite Of Everything (Lamrot HaKol) of course, and went on with their biggest Kaveret and solo hits. They played:
Inspite Of Everything (Lamrot HaKol)
A short version, of course, including only the chorus.
I Gave Her My Life (Natati La Hayay)
Remember, Don't Remember (Zocher, Lo Zocher)
The new song, which proved to be a hit among the younger fans.
Self Service (Sherut Atzmi)
Sailor Song (Shir Malahim)
Goliath (Goliat)
Absolutely amazing.
Ani VeAt Az - Yitzhak Klapter
Including a terrific bass and piano solo by Alon Oleartchik and Yonny Rechter.
Everything Has Its Price (Shir HaMehiron)
She's So Pretty (Hi Kol Kach Yafa)
Lu Lu
With Efraim Shamir on drums.
Poogy Tales (Sipurey Poogy)
The Grocery Story (Sipur HaMakolet) - sketch
Starring Alon Oleartchik as Yudokolis Lipshit, Danny Sanderson as Sylvia Bumper and Yitzhak Klapter as The Old Man.
The Grocery Store (Shir HaMakolet)
Things Could Be Better (Yeled Mizdaken)
Holechet BaDrachim - Alon Oleartchik
A great song which deserved to be performed by Kaveret.
Poogy Tales (Sipurey Poogy)
Adulterous Boots (HaMagafaim Shel Baruch)
Including the famous introduction about Baruch.
The People In The Closet (Sipur Ha'Aron) - sketch
Starring Yonny Rechter as Shlomo and Meir Fenigstein as Poogy, of course. The up to date version included the line: 'VeLifney SheYacholta Lehagid Shlomo Ben Izri, Nichnas Poogy...' etc.
Little Kingdom (Medina Ktana)
Ze HaKol Bishvilech - Danny Sanderson
Looking For A Way Back (Mehapes Derech Hazara)
Bil'adayich - Yonny Rechter
A beautiful Rechter song, originally performed by Gidi Gov.
Mathematics (Matematika) - sketch
The up to date version included the questions: 'Poogy Nasa 15 Kamash. Atzar Oto Shoter. Nish'elet HaShe'ela: Mi Nasa Yoter Maher?' and 'Poogy Nasa BeRakevet MiBe'er Sheva. BeMakbil, Hu Nasa BeRakevet MiHaifa. Nish'elet haShe'ela: Matay Yifgosh Poogy Et Atzmo? She'ela Shniya: Ha'im Hu Yit'achzev?'.
Lama Libech Kmo Kerah - Gidi Gov
Composed by Alon Oleartchik.
The Ballad Of Arivederchi (HaBalada Al Ari VeDerchi)
An incredible performance, with Meir Fenigstein coming to the front of the stage, near the audience.
The Senior (HaVatik) - sketch
With Meir Fenigstein as The Interviewer and Gidi Gov as Haim Slutzky (see picture below)
The Crux Of The Matter (Po Kavur HaKelev)
Left Handed Octopus (HaTamnun Ha'Iter)
An extended brilliant version (like in the previous reunion).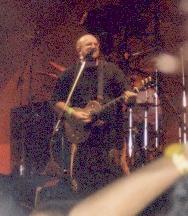 Towards the end they moved to the front of the tongue-stage, close to the audience, where acoustic instruments were waiting for them. It was cool to see Yonny playing the accordion (who thought an accordion can be cool?), though it was hard to hear it. They did a medley of unplugged songs:
Lo Noda - Danny Sanderson
From Danny Sanderson's last album.
Ha'Ayara Sheli - Yitzhak Klapter
Originally performed by Arik Sinay.
Ne'ehaz Ba'Avir - Gidi Gov
Erev Shel Yom Bahir - Efraim Shamir
Shir Ro'im - Danny Sanderson
Na'ara BeMishkafaim - Alon Oleartchik
Originally performed by Gidi Gov.
Shir Nevu'i Kosmi Aliz - Yonny Rechter
Shu'al BaKarnaval
Yesh Lanu Eretz Nehederet
With some joking on prime minister Nethanyahu's expense.
The Boxer
Originally performed by Simon & Garfunkel, who are known for their unplugged-like songs.
Afterward they got back on the stage and did some more songs:
Hora (Hora He'ahzut)
Yo Ya
With a great drums dialogue by Meir Fenigstein and Tal Bergman, and disapponting solos by Alon Oleartchik and Yonny Rechter.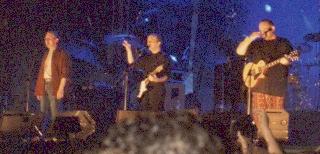 They were supposed to do 7 encores, including some songs which they haven't performed on stage ever, such as Just What I Like (Kacha Hi Ba'Emtza), but due to the late hour, they were forced to shorten the ending. But they did sing:
Tea And Sugar (Sukar BaTe)
With Gidi Gov hitting Efraim Shamir with a club (see picture below).
The Surfboard (HaGalshan) - Danny Sanderson
My Own Company (Haver BeHevrat Atzmi) - Efraim Shamir With great guitar solo by Efraim Shamir.
Remember, Don't Remember (Zocher, Lo Zocher)
It's Been Nice (Nehmad)
Childhood (Shi'ur Moledet)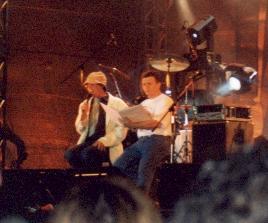 They were absolutely fantastic. Beautiful songs, excellent musicians. Sanderson cut back on guitar solos, but when he did play, he was amazing. Klapter did most of the guitar solos, and eventhough a slightly overdistorted sound, regained the best Israeli guitarist title. Shamir proved himself to be a fabulous underestimated guitarist, and an excellent performer. Oleartchik was terrific, definitely one of the most inventive bass players of all times. Unfortunately, I couldn't really hear Rechter's keyboards, but when I did, he was fantastic as ever. Gidi sang beautifully and the combination of his voice with the others' was amazing. Poogy and Tal Bergman (remember Animal from The Muppets Show?) pumped up the concert with energetic powerful drumming.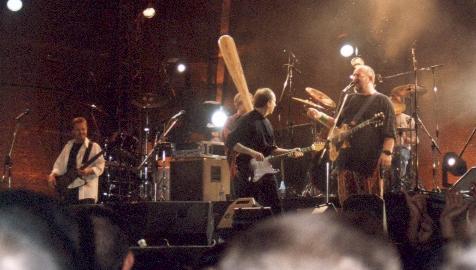 Some say the concert stunk from greed, or recycling past success, but I don't think so, and don't think it matters. They were great, they seemed to have really enjoyed it, and the audience loved them.
After the concert was over, Doron, Udi and me sneaked to the backstage, where we met the band. I talked to Efraim, with whom I've been in contact in the past few weeks before the concert. I also spoke to Danny, who introduced me to the others. It was fun to discover Poogy remembered me and Doron from our meeting in Jerusalem in 1997. All in all, it was really nice to meet them.